Valentines Day - Most Romantic Scenes - Part 7
We are back, one last time, to bring to you the last installment, and the remaining two...

Happy Valentines Day to everyone!

We are back, one last time, to bring to you the last installment, and the remaining two, top of order romantic scenes of this countdown from the decade 2001-2010.

We take a quick chance to thank all the readers who have stuck along and followed us through the week - and keep our fingers crossed that the final two scenes shall be to the consent of at least a majority!

Without further delay, here's Day 7 (read:King Khan Special) for you!


#2
Movie:
Kabhi Khushi Kabhi Gham (2001: Shah Rukh Khan, Kajol)
Scene:
Laying claims at
chudi
stall
KJo's second directorial venture, Kabhi Khushi Kabhi Gham is a complete family entertainer. Of course, that it stars the likes of Amitabh Bachchan, Jaya Bachchan, Shah Rukh Khan, Kajol , Hrithik Roshan, Kareena Kapoor and Rani Mukherjee (cameo) did back then, and still adds to its blockbuster ratings. Commonly referred to with the acronym, K3G, with SRK-Kajol forming the central leads of the movie from among the powerful ensemble, it went to become the biggest Bollywood grosser of its time, till the year 2006, both in India and overseas.


Making to the coveted top two in our week long countdown, the chosen scene is the popularly tagged 'chuddi stall confession'.


A naive resident of an average status family in Chandani Chowk, Anjali (Kajol) makes herself believe that multimillionaire heir Rahul (SRK) is paying all his attention in his strive to seize her father's shop from them. Consequently, she decides to confront him about the matter without talking in riddles.

SRK's sibling Rohan and Kajol's sibling Pooja plan to meet at the fair to be held in Pooja's crowded neighbourhood. Rahul who is quite taken by Anjali's loud manner and bindass attitude sees this as an excellent opportunity to spend time with her under the farce of accompanying kid brother Rohan.


Here, Anjali who is totally oblivious about Rahul's liking for her, and actually misunderstands it as an ulterior business motive, tries to bring up the topic about the shop, and warn him to not try his tricks. In his own romanticism, Rahul meanwhile, gets mysteriously complimenting, taking her by surprise and suspicion at the same time. In her uncertainty, she rushes to a near by Chudi stall to evade his blatant insinuations, and pretends to look for some good bangles. He follows her, and continues with his mild flirting and only when she blatantly blurts out her displeasure at his evil intentions of trying to take away her father's shop, does he eventually make sense of her confused blabbering, falling deeper still for her unassuming charm.

And at that, he unabashedly talks of feelings beyond friendship, beyond casual bonding, and such, interrupting his own twisted profession of love only to ask her if the bangles he is simultaneously slipping through her writs hurt or prick. The humbling speech leaves the ever talkative Anjali dumbfounded, and she can all but listen to him, consciously, shyly, and in uncharacteristic silence.

When she finally tries to free herself from his grip on her wrist and escape his piercing gaze and candid confession, Rahul then holds her back and pulls her closer, whispering that he still intends taking control of that shop of hers. At which, Anjali does manage to wriggle free and run away!


With this initially comic and overall romantic scene culminating with Suraj Hua Madham beginning to play in the background, and the onscreen never failing magic of SRK-Kajol, this scene deservedly occupies its spot as second only to the best.


#1
Movie:
Kal Ho Na Ho (2003: Shah Rukh Khan, Preity Zinta)
Scene:
Confessions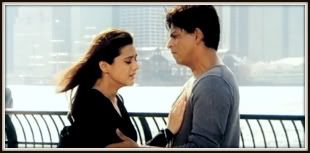 A love filled scene in a melancholic set up that is sure to tug at the heart of every possible romantic, the scene we chose from Kal Ho Na Ho is top of this list for several reasons.
For starters, it is a part of this epic romantic flick which despite its not altogether happy ending was a mega-hit at BO. For another, its an SRK film. For yet another, specific to the storyline of the movie, this scene is the highest point among all high points in terms of confessions and comprehensions between the lead characters, Naina (Preity Zinta) and Aman (SRK).
A sad romantic tale told in the city of New York, Kal Ho Na Ho is the story of an ordinary girl with an ordinary life - read: a life full of dissatisfaction, disagreements, and disillusions. Until the day that her knight (Aman) walks into her life with his shinning armor, his ever ready wit and the infectiously happy air about him that lingers everywhere in his wake.
Aman, despite starting off on a wrong and annoying note with Naina, eventually makes a place for himself in her heart, a place only he has. A place, she has unknowingly reserved for the man she loves. Suddenly in love, Naina begins to see life in a whole new and happy perspective, that is, till just as she plans to confess her feelings to Aman, she learns of his being married to another.
A fact, that she soon learns, is an utter lie, and a sham he takes refuge under to hide the real truth of his dying heart. The scene we chose to top this week long countdown, from among the many, many, romantic moments of the past decade, follows the point where Naina learns the truth about Aman's illness and his single status.
It further and immediately dawns upon her, why after rejecting her love before she could even pronounce it to him, he has put in all the effort to set her up with her close mate of few years, Rohit. Aman, as soon as he realizes of Naina learning the truth rushes out of his hospital room to search for her in the huge crowded east coast metro.
When they eventually reunite on the bridge overlooking the Manhattan skyline, Naina can't help but break down into his arms confronting him with how much he does in fact love her, for all his vain refuting, for wanting to leave her with true love long after he is gone. Relieved and grieved at the same time, Aman takes her into an embrace still denying the love, and showing its intensity with his physical gesture alone.
A heart wrenching scene which shows the inevitability of being mortals and the loss its ensues for the two lovers. With SRK and Preity together putting their all into bringing out this scene as near real, it reigns our countdown unbeaten by any other hands down!

And with that, we finally come to the end of this series of articles. Taking all your appreciation and criticism in the stride, we have to admit going down the memory lane to prepare this Top 14 list was a fun exercise, even as trying to please as many as possible, was challenging.

But we hope you have enjoyed as much as we have, through the Valentines Week.

That said, here's wishing you all, once again, a joyous and content Day of Love!

Authors: Sharmila & Naseem
Graphics: Fatima