Bolly-Holly look-alikes!
BollyCurry is here to present you the look-a-likes of Bollywood stars in Hollywood...
Time and again, it has been said that there is always someone in some part of the world who looks if not the same, then strikingly similar to you. BollyCurry is here to present you the look-a-likes of Bollywood stars in Hollywood. Without further ado, let's begin...

Aishwarya Bachchan and Ana Barross

Leading actress Aishwarya Rai and top model Ana Baross have much more in common than beauty and fame. Whether it be the shade of eye colour or the the long wavy hairstyle that both of them seem to prefer, BollyCurry surely finds a striking resemblance between the two.



Preity Zinta and Drew Barrymore

The dimpled girl of B-Town has so much in common with American actress Drew Barrymore. We can't help but think if Shirish Kunder knew Drew Barrymore, then Preity wouldn't have had to do a double role in Jaan-E-Mann.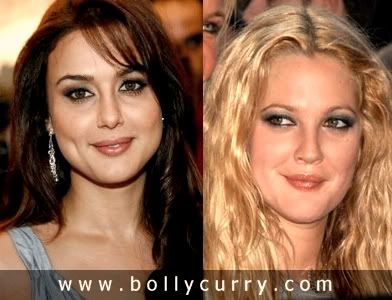 Akshay Kumar and Tom Cruise

Bollywood's Khiladi Kumar and Mission: Impossible star, Tom Cruise share a lot more than their need for perfection in daring action films.They come next in line for their common looks.


Kareena Kapoor and Paris Hilton


Size zero babe, Kareena Kapoor and America's favorite heiress Paris Hilton surely go hand in hand whether it be in size or looks.
Cobie Smulder and Katrina Kaif


The Brit Babe of our Tinsel Town, Katrina Kaif and Canadian actress Cobie Smulder have an uncanny resemblance - glowing skin, long luscious locks and sexy lips just to name a couple.



Emran Hashmi and Colin Farrel


The sexy boy of Bollywood, Emran Hashmi and Phone Booth actor, Colin Farrel have both impressed women of every age. If you wonder why that is, take a look for yourself!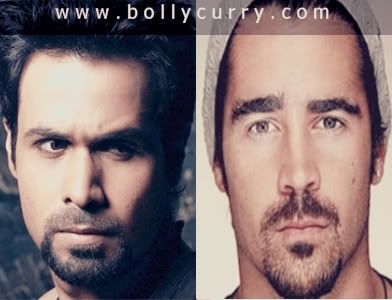 Emmy Rossum and Jia Khan


British born actress Jia Khan and Emmy Rossum, who appeared in Poseidon had to be considered by Bollycurry for this article. Without saying much, we're surprised that they aren't twins!


Hrishita Bhatt and Alyssa Milano


Our much loved Charmed witch-sister, Alyssa Milano and Daaku Daddy's girl, Hrishita Bhatt come next in the set of look-a-likes. We'll allow the pictures to do the talking.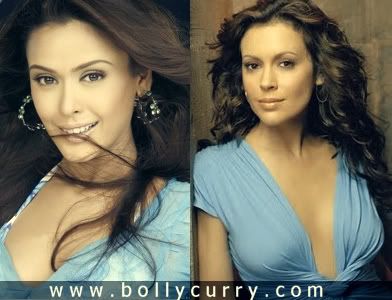 Anil Kapoor and Eric Dane

Last but not least we have our favorite papa of Bollywood, Anil Kapoor and Hollywood actor Eric Dane from X-Men fame. It's the fading hairline, the mustache and the facial structure that takes the cake here!


What's your take?


Author : Tanya F.