Sets Apart!!
Turning on our micro eyes on the 'home' of all of our characters, this week, we take a peek at their 'living' conditions in the serial world. Read on...
We have discussed almost everything that comes on TV - actors ,villains, story, music, reality shows etc, but what about the backdrop, the very premises on which these shows are based on, ? To be specific, the Sets and the ambiance they create to tell us the tale of Bani, Saloni ,Tulsi or Parvati? Though they have never been the subject of intense discussion, yet, they are an equally important factor in the success of any show as any actor or character. Yes, you guessed it right! Let us find out which ' house' needs servicing at the earliest and which one is the favourite one of any producer…….In short, let's analyse few sets and their Factoids and see what makes each set unique and sets them apart from the rest.
To start with, have you all ever noticed what is common among the sets of these serials - Doli saje kay , Mamta , Meri Doli Tere Angana, Sollah Singaar , Rakhi , Kasauti Zindgai Kay , Banoo main teri dulhan ,Pyaar ke do naam ,Woh rehne wali Mehlon ki ,Virrudh , Kasturi ,Kya hoga Nimmo Ka , Kavanjali , Har Ghar Kuch Kehta hai , Dill Mill gaye …and may be many many others ? Yes, it's their "House" ! They all use same house from outside. The interiors, of course, are different, varying from show to show, nevertheless, often the house they are shown living in are commonly shared among many characters in different shows. Left us ponder as whether whole Mumbai lives in single house…………
Moving onto the interiors, let us find out who makes it to our chart of great interiors, and who fails to impress our nosy Telly Buzz eyes!
Top Five:
1) Virrudh
This is one truly different, chic and 21st century looking home or mansion. Wooden floors, use of subtle and right mix of colours compliments the story . The now late DRS bedroom is different and the use of minimal lights used to add mystery to his on screen persona. In contrast, Shreya's bedroom is more suitable to the character she plays, with fish wallpaper in the background. Furniture too has been chosen with care . Those "deewans" , the dinning table and big pot on the entrance with flowers floating in it looks great. Great job done Mr. Omang Kumar for creating such an ambiance which is so sleek and different in all perspective.
2. Kahaani Ghar Ghar ki..
Arguably the best Set of Balaji Telefilms. Everything looks really nice, from heavy and expensive looking Chandeliers to the beautifully carved out walls with motifs done on them giving it exclusivity. Even the idols of different Gods and Goddesses have been positioned tastefully. Paravti's room with her portrait on the wall, glass doors and a catchy colour combination looks stylish yet livable. Mostly in white and needing some extra care, one must say that it is handled really well by the team . Exterior though, is same as any other Balaji show, the familiar garden where from Prerna to Anjali to Nimmo everyone must have cried at least once, looks a tad different . Overall, its an expensive and exclusive Set for sure!
3. Dil Mil gaye
We have seen many hospitals on television, but this one sure stands apart. Rich in colours and yet the homely atmosphere gives you very warm and cuddly feeling. Loads of colours from ceiling to walls gives it style and character. The sets of Sanjivni were quite different too ,and had changed the whole concept of hospital sets on the Television. Continuing from there, Dil Mil gaye takes it a step ahead. The locker room of the interns is very young and sporty with glass panels. Minute details have been looked into, keeping in mind a show which is based on medical field but with a love story beneath . Be it their Basketball court or the canteen with chic and hip chairs, everything suits the young generation. Just the Entrance of hospital with Sanjivini written on it looks a little false. Otherwise Dil Mil gaye on premises is an eye candy for most.
4. Baa Bahu aur Baby .
Have you ever thought why each of our daily shows are story of millionaires and zillionaires and even if they are not, then the story is tailored to make them rich! Well, that's because they all want to show lavish sets, loads of jewellery, yards of silk and lots of glamour just to keep viewers glued to their TV sets (in most cases, they have little choice because the story becomes non existent). But hats off to "Hats off Productions", who have given us a superhit show in Baa bahu and Baby. The story revolves around a middle class family and the sets and the ambiance is unbelievably authentic. The 'well' in the courtyard, the 'Verandha', the kitchen, the rooms, even the living room all have an intrinsic value to them. One has to applaud the effort put up by their creative team as even a small item like Gattu's trunk adds flavour to the show! Great going!
5) Rakhi
This show has just started in the afternoon slot on zee TV. We hope they will be able to maintain their production cost, as they have started off in real style. The Set is amazing , the best in the afternoon time slot in all the channels for sure. While the house has it's own grandeur, it's the office which caught our attention. From lift to lobby to the cabin, it looks new and looks like they have spent quite a lot of a time , brain and energy. Coming back to the house, those stairs in the house with carpets adds grandeur to the set while Raja bhaiya's bedroom is a master piece in its own . However, just one question - why they have fireplace in Raja bhaiya's room? He lives in Mumbai, not in Manali !
Now let us see which of the Sets need overhauling in their interiors with immediate effect, as they have been working over time and need a RAISE just like the Stars!
1. Kyunki Saas bhi kabhi Bahu thi..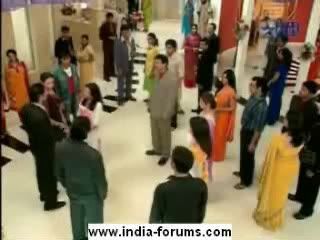 This is the most popular show of Indian Cable Television History, and without a doubt has the biggest ensemble of actors . Kyunki sets looks like the Factory of Balajii Production as when ever they have to try a new star or the acting capability of any actor, they throw him/her in the ring of Kyunki, sometimes to play the cousin of Bhumi's long lost friend or Karan's distant relative's kin or any random person. But their set looks like its working overtime with nothing new to add to it. To start with, they have such a small Living room for their huge star cast that they cant even show all the actors standing in a single frame. The zebra pattern is not bad, but considering the crowd it has to deal with, it's never highlighted. The terrace looks like its forgotten since long with green carpet unsuccessfully trying to give us the feel of grass, and ends up looking very shabby from all the angles. And why, oh why do they have such a small Dinning Table for their Family, which is equal to a colony? Do they take turns in eating? If so, then some of them probably end up having breakfast for their dinner! Have you all ever thought about it!! In all looks overly crowded and small.
2.Kasauti Zindagi Kay..
Another Balaji Production, this is a one overflowing pot of colours. Not having any particular theme, with bright colours used in abundance which often hurt the eyes, the heavy embellishments on the walls, all make it look crowded and FAKE from all the angles. It seems like the creatives have simply bought and placed everything they could find in a designer store with no theme or plan in mind. The worst part was when Prerna had the hidden door to keep
Anurag Basu
's mother. All those tricks to open the door looked hilarious and a rip off from some Kids show based on Treasure hunt. Their fixation with Panchmeshwar is baffling as well, as such a small place has International Airport and its always snowing, doesn't matter whether its June or December of India. All that snow seems more like they are using foam of "Soaps" in their Soap. One question - Why in Balajii shows no party is ever complete without SMOKE? Well, here it is the case of Smoke without Fire..do notice it from now on.
3.Doli Saje Kay ..
Aruna Irani always had huge sets and great interiors, but that was before she launched Doli Saje Kay. Barring the kitchen and the dining area which are pretty modern, though dull, the rest of the set looks like we are watching some 70 shows with Carpets , heavy silk curtains , and a mesh of heavy furniture which don't go with the contemporary fixtures on the walls. The Living room is particularly very old Fashioned. Before marriage the "Bandanwar" which used to be on Anupama's room door now has now changed places with her mother-in-laws 's room for some unknown reason. Coupled with very strange clothes for their leads, which can make you feel dizzy, hot and humid just by watching them, the overall effect leaves much to be desired. The lead protagonist has been shown as a very homely and introvert girl, but it does not mean that her taste is backward as well, especially when she is a Fashion Designer in the show!
4) Banoo Main Teri Dulhan:
This makes a cut in the bottom five simply because of the lack of creativity as far as furniture goes. Earlier, Sagar, the male protagonist, was shown to be a retarded person, with a mental state of a kid. However, before Sagar's recovery, the bed of his room was very strange! It was made of glass and filled with coloured water with bicycle hanging on top of it. Who in their right mind would have such a ridiculous bed, which also had sharp edges, in a kid's room, that too a one whose mental state was not right.In fact, nothing in his room was suitable or made keeping in mind the taste or safety of a kid. Ironically, the property is the sole reason of Sindurra's evil plans to kill Sagar. Yet, the house itself does not even have enough rooms or furniture. In particular, there is a chest, which keeps rotating between Vidya's room,Chandra's room , Bua's room and sometime in Sindurra's room. After Sagar has recovered the bed's back is now filled up with thremacole balls which look like a last minute alteration to match the wall colour of Sagar's room . Now why cant Millionaire Sagar afford to change his bed? The bed of Mahua and Bua's room is same as well ,with the exception of the headboard and the decoration adorning the space above it. Come to think of it, if Sindurra ever realises this, then she might leave Sagar and Vidya alone and they can live happily ever after without any property issue or money involved as it seems there isn't enough of it at the first place!
Undoubtedly one of the worst Sets we have on Television Right now. They have exactly two rooms and a living room .The lead is shown as the Leading Tycoon of Mumbai and yet lives in a house which does not have enough furniture and beds to fill up the vacant places of its floors. All the rooms has one bed shown from different angles to give us the feel that its different. They have just one sofa in their living room, a rocking chair which keeps rocking from bedroom to living room based on the requirement. Even the accessories look they are over used and drained out .In this show they have flip-flopped everything interiors,exteriors,furniture and even actors you name it they had it all.The show has ended this week, but while on air, nothing was really working – neither the story, nor the sets. This show had great actors but all wasted to the hilt! Its a prime example as "How not to make SETS", or a serial for that matter!
Hope you all enjoyed our analysis of Sets and now hopefully producers will pay attention to this aspect of their shows as well, which is being neglected by some of them since ages. We implore you to give the shows an authentic feel suited to the story. Money does not automatically translate into class. Huge Sets with expensive decorative items and crystal ware can not save you! Beware Telly buzz team is here with their Hawk Eye!
Author :Nishtha ,Minnie
Picture Credit : pinkbubblez, Lil Ms.Sunshine, sania_12,*Shruti*
ALSO READ:
Bhagya Lakshmi: Malishka to take Vikrant's help to drive Lakshmi and Rishi apart?