Hotspots for Love Confessions...
Some of the most Favorite Places of Television Lovestruck couples, where they love to say..I LOVE U! Check out to know more..
Valentine's Day spells love, romance, music, flowers..etc..etc..easily the most Romantic day! But the flip side - Valentine's Day could also be the most Unromantic day in the whole year! Yup, you read it right..abysmally unromantic! Couples behave like pre-programmed robots, buy cards, red roses, chocolates, catch on with movie tickets and dinner reservations etc etc..all along trying hard to keep it a secret! But the person you are doing this for, knows you are up to something, isn't it?! So why make such a gorgeous day, predictable? Why do something that everyone does, every year? Why not do things a little differently?
Our television jodi's, in their attempt to express their love for one another, end up sometimes in the remotest and sometimes at the most unexpected of places! And with it, firmly entrench their names and place in audiences' hearts! Read on to know which are the Most Romantic Proposal Hotspots of the small screen!
Jungle : Forests have always been a favourite spot for the couples, both onscreen & offscreen. Who can forget
Aamir Khan
and
Juhi Chawla
in QSQT!! Since then we've seen many love stories blossom in the thickest of forests. Far away from the maddening crowd..serene quiet, forests have turned out to be the perfect lovers point. Like in DMG, Armaan and Riddhima got close to each other in one such jungle; the couple of Chhoona Hai Aasmaan, Sam and Abhi, Kangana and Priyam from Ardhangini..all fell in love with trees and dangerous wild animals around! Makes us want to say…'Come Fall in Love in the Jungle!'
Picnic/Camp :
Ahh...another favourite Couples' Paradise, where while playing games and singing duets..you become one! Antakshari helps in the case, and its the easiest way to put across your feelings! What better way than songs to express feelings where words fail?! We can say it's the starting point of finding love in a show, and the finishing point..hmmm..only writers/creatives can tell where the journey leads! Word of Caution: Next time when you play Antakshari, be careful. If we go by serials, you might just end up with someone you may not wish to be with!
Market/Mall : Not the perfect place to find a guy or girl, with soo many people around staring at your every single move. But our shows' protagonists, somehow, find their soulmate right in the middle of the crowd! Recently shown in Doli Saje Ke, where Daksh entered the show through one such mall and straight away fell in love with Anupama, amidst a 'terrorist/goon' attack! Although it made a hilarious picture, the end result - Daksh and Anupama marriage is on the cards!
College : A perfect ambience/setting to find the ultimate, four letter word - Love! In the canteen while sipping tea/coffee, or in class in the midst of a lecture strings attach and after that..bike rides, picnics and before you know it..the forest again! Jokes apart, college campuses make the perfect base for future storylines. This has been shown in so many shows, most recently in the just concluded show, Love story. So it well deserves a place in our Couples Hotspots!
Marriage : We should thank
Sooraj Barjatya
and his epitome of success called 'Hum Aapke Hain Kaun', as it has been the inspiration to many shows and movies. Otherwise imagine, we would probably never have realised the many opportunities springing up at Weddings! All the ceremonies, from sangeet to hiding groom's jooti, provide a great opportunity to get two people together! All television couples or would be couples' meet or come across each other ATLEAST once in wedding, be it Anuraag and Kakoon of Kya Dil Main Hai, Armaan and Ridhima of DMG. In some unusual cases, someone else's wedding could turn out to be the gateway to your own life and love story, like in the case of Sumit & Kumkum and the rest is 'History',isn't it?
Bus /Train : This one could turn out to be quite a 'moving' experience! Remember how Raj & Simran of DDLJ met? And more recently, Shahid-Kareena's (on-screen) journey of romance began in the train! Atleast once in our lives we all have played games or danced in a bus or train while going for picnics or on educational tours! The effect and aura it creates, be yourself be bindaas, say and do whatever you want. This has been sensed by the makers as well; they show couples travelling alone or with friends..once for sure..be it in a truck, train or bus! Many shows are based on this theme like Dhak Dhak in Dubai or Yeh Dil Chahe More of Star One in the past!
Sea/ : What a perfect place! Every single writer or poet has covered the sea/beach in their poems; lovers walking hand in hand, sitting on the rocks, facing the sea oblivious to the world behind them. In serials, Goa is the favorite hotspot where couples love to spend time, be it in Ghar Ek Sapna or Abhi and Sam of Choona Hai Aasman in Daman! Truly the Sea with shells, waves and water around makes for a perfect place to date!
Theatre/Movies : One can never forget the opera of Dil Chahta Hai or Saif-Sonali's song from the same movie. Fans of Kya Dil Main Hai could say the same, where while watching Om Shanti Om, Kakoon and Anuraag/Rahul got close to each other! Who can forget the chanting of Ek Chutki Sindoor of Pishimaa in the show!
Office/Workplace: Just one Question - Do you remember how the Numero Uno couple of Television fell in love and most importantly where? The answer is pretty straight - in the office! Sujal-Kashish's love ride started with files and figures around! But what a turnaround it took! Wait a Second…same could be said about Jassi and Armaan! So we have two most successful couples of small screen romancing in the Office! We never knew office could be the perfect place to find your soul mate.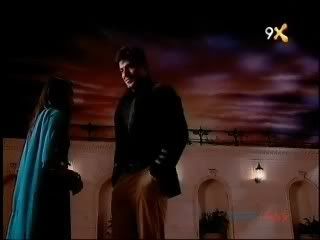 At the Cliff /Mountain : A beautiful setting..with the sun rise/set across the horizon, birds chirping and the touch of serenity adds a magical feeling. Who wouldn't fall in love! Same goes with many shows and couples. Aniket and Tapur were no exception; they went to one such cliff, fell in love and got their names mentioned here, speaks for the popularity of the scene. This scene is still fresh in audiences' minds or rather in their hearts!
This was our list. Which is your favourite hotspot of/for a Lovestruck Couple? Where do you want their confessions to happen. Just feel free to express your feelings as Valentine's Day is about expressing yourself!

ALSO READ:
Aamir Khan grooves with Nupur Shikhare: Ira Khan pens heartfelt words and shares more unseen engagement photos