Brand Wars !
The race for product endorsements among the B-town celebrities today, is at par with the race...
The race for product endorsements among the B-town celebrities today, is at par with the race for good movie projects, perhaps even a notch higher! For higher is the promotional trend acquired by appearing on repeatedly telecast TV commercials and higher is the money that exchanges hands!
Stars pocket amounts that run into several millions of rupees annually for brand ambassadorships and product marketing alone. Indeed then, it becomes vital to them, to vie for the bigger names and bigger pay packets as such, while riding high of public popularity.
So if you're one among the ardent fans, who loves to watch a favorite celebrity become the face of a favorite consumer product, read on for the tally charts we at BollyCurry draw up for you.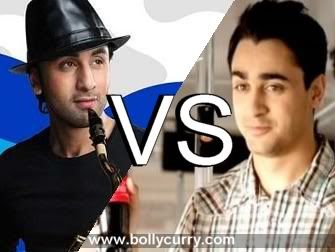 Ranbir Kapoor (Pepsi) vs Imran Khan (Coca Cola)
Two youth icons, two celebrated chocolate face heroes, two actors each boasting of his own box office hits in their not-so-aged rendezvous with Hindi cinema - who's the winner, youngistan ka wow Ranbir, or opening happiness Imran?!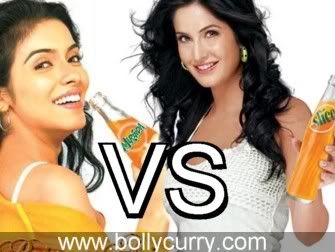 Asin Thotumkal (Mirinda) vs Katrina Kaif (Slice)
Thirst quenchers promoted by tinsel town sizzlers Barbie Kat and
Ghajini
girl Asin. Your choice is - Asin's 1liter
masti
, or Kat's
raseela
charm?!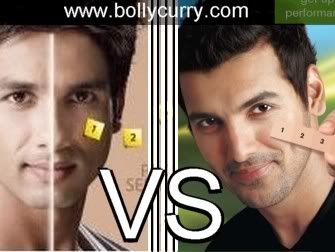 Shahid Kapur (Vaseline Men's face cream) vs John Abraham (Garnier Men's face cream)
This one is simple. Forget the products, just pick your knight in the shinning armor - with the
greater
shinning face! Shahid's 60 seconds formula, verses John's fairness testing strip!
Deepika Padukone (Neutrogena) vs Genelia D'souza (Garnier)
Mirror mirror on the wall, who's the
lovelier
of them all?! Two pretty faces, winning deals, stealing hearts! DP and Geni from the younger brigade of tinsel town's demure(not) damsels are making constant waves. Your vote for the beauty product endorsing beauty queen is...?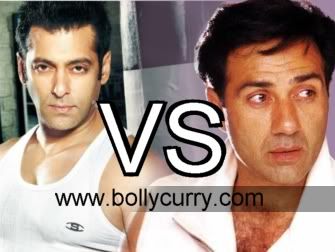 Salman Khan (Dixcy Scott) vs Sunny Deol (Lux Undergarments
)
A choice between macho-ness-quotients when promoting male inner wear. Sallu or Sunny, your perfect abs-man modeling in vests is...?!
Sonam Kapoor (L'oreal Beauty Products) vs Aish (L'oreal Total Repair)
L'oreal indeed managed to ensue a brand war between these two gorgeous ladies,
set apart by the years!
While the reigning older one was pressed to move on to promoting products suiting her
(ahem)
age bracket, the younger
masakalli
charmed her way into becoming the face of fair maidens for L'oreal beauty products. Who is it for you - old so gold, or Gen-X behold?!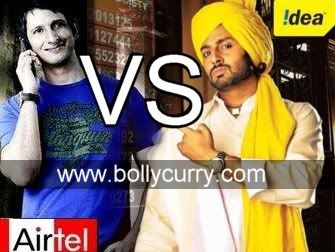 Sharman Joshi (Airtel) vs Abhishek Bachchan (Idea)
Between the
idiot
, and the
dost
- chose your perfect cellular service king -
sirji's
idea, or sharman's
banti baat!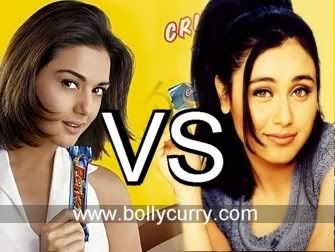 Preity Zinta (Cadbury's Perk) vs Rani Mukherjee (Nestle Munch)
Not exactly the current day adverts, or even the current faces - but these mega divas of the 90's and beyond sure gave a push to the sales of their respective chocolate delights! Where was your incline - with
perk-y
Preity, or
munch-ing
Rani?!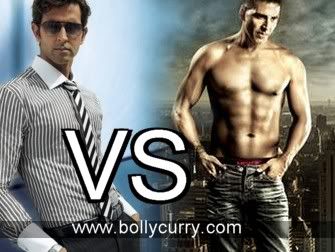 Akshay Kumar (Levi's) vs Hrithik Roshan (John Players)
While Action Kumar Akki promotes the comfort of snug denims, Duggu exhibits class and style with perfect finish in John Players. Who's wardrobe do find a die-for affair?!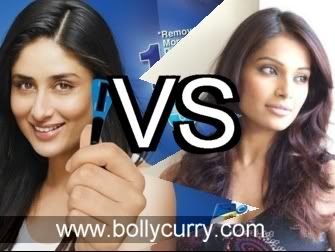 Kareena Kapoor (Head & Shoulders) vs Bipasha Basu (Clinic All Clear)
While Bips has been around with the Clinic team for a while now, having done some work with beau John himself, Kareena is a recent addition to the H&S family. So are they Kareena's golden locks or Bipasha's darker mane that wins your confidence?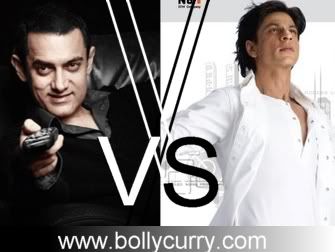 SRK (Dish) vs Aamir (Tata Sky)
Two Khans. Two legends. Two telecom brands. The war, which has always been on, needs your vote - SRK's
jese asli
quality, or Aamir's
jhingala
life!




Interesting comparisons? Be sure to let us know of your personal picks!